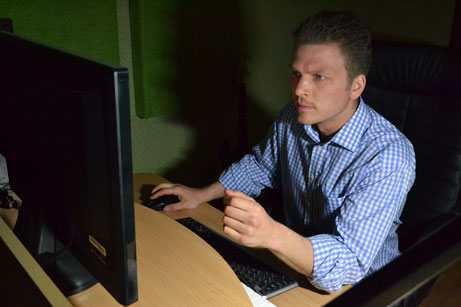 Thanks for stopping by!
My name is Elijah Kuttikhen. I'm the owner of "EKmixmaster" studio and mixing and mastering engineer. I'll be happy to put my heart, passion and 15 years of my experience into bringing your music to life.
If you are looking for a professional engineer to polish your upcoming project and need an audio pro who will be able not simply to process your song, but to tackle  mixing as another stage of creative work on your music, you have come to the right place!
After I had graduated from Kharkiv College of Music and Arts with honors in 2006, I started my career as an intern at "Dawn Records" studio in Kiev. I was really lucky to work in a team of the best mixing mastering engineers there.
Later when I was working as a live show audio engineer, simultaneously I managed to delve into music production and studio technologies. As I used to be fond of gaining knowledge very much (a real knowledge junkie), I would take any opportunity to acquire mixing skills and would go into different workshops of sound mixing techniques. That time I used to work as an assistant major mixer.  
In 2009 I was lucky to meet Jon Berntsen ("Smash Fabric Records"), a mentor who became a friend of mine. Mastering work for his House/Chill label was a great experience for me. 
Pro Tools, Ableton Live , Melodyne expert. Professionally skilled at audio comping, pitch correction, timing correction, quantization, noise suppression.
Since 2010 I have mastered about 75 dance and R&B songs for Barbara Douglas and her label "Silk Records" in New York including one of her most popular records – a remake of the Chaka Khan classic "I Know You, I Love You".
Another fantastic page of my bio is the collaboration with Golden Star LLC label (Visalisa, California). The pop song "Nowhere Zone" I had mixed was twice nominated at MIDEM festival in Cannes in 2014.
I'm grateful very much to Mike Puskas (Melbourne, Australia) whose Ikonic Artist Management label I'm still collaborating with. Mike is a cool leader and a producer with a fantastic vision of music.
My vast experience I have gained over many years allows me to manage any genre and sub-genre project: Hip-Hop,Electronic music, Pop, Rock, Symphonic music and so on. 
Let me show you what I can do with your music, and you will love the result!