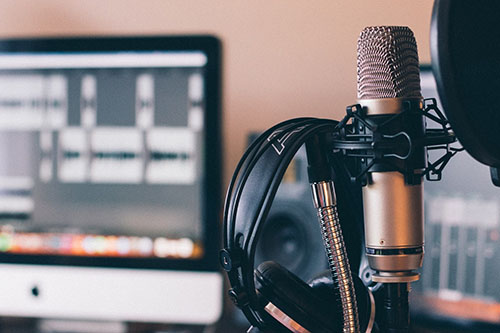 Each musician dreamed of recording music and vocals in their own studio and creating a unique sound, regardless of the producer. With a complete set for the recording studio, this dream becomes a reality.
Whether it's a live musician, singer/songwriter or producer: equipment plays a crucial role in sound. So what do you need?
Studio microphone
It is the main tool for recording voices and instruments. Don't forget about the microphone stand and pop filter - with them, vocal recording becomes both more convenient and better.
Audio interface
This is the main link between the computer and the rest of the devices in the studio. You can connect a microphone, keyboard or guitar here. All of these have different inputs. The decisive purchase criterion is the speed of the interface for realizing multi-track recording.
MIDI controllers and keyboards
When you consider how much space analog synths and keyboards take up, the combination of virtual instruments and MIDI controller makes more sense. You save a lot of money and a lot of space. In addition, many virtual instruments offer a huge number of editing options, giving you more flexibility. Most home studio keyboards come with a USB port and their own driver to get you started right away.
A computer
Well, this is the real center of your studio. Fast hard drives, RAM and processor performance are the success criteria for fast work. This is the only way to use a large number of resource-intensive plugins. In addition, large music projects take up a huge amount of storage space. In many cases, hard drives with a storage capacity of one terabyte are used.
studio monitors
They are essential for anyone who wants to mix and master. The purchase criteria are a wide frequency range and linear sound transmission. For small studios, so-called near-field monitors are recommended, located in close proximity to the listening position. By the way, if you want to organize a home studio, you can achieve a clear stereo image even in the smallest room by properly positioning the monitors. The rules are simple. The axis of the monitor should be at the height of the listener's head. In particular, special tables for home studios have several levels and allow targeted positioning of monitors. Otherwise, alternative speaker stands can be used that can be easily detached from the monitor boxes.
Studio headphones
They are open, semi-open and closed. In particular, closed-back headphones are required for home recording equipment. First of all, we are talking about linear reproduction of sounds. Only in this way the listener will be able to perceive as much detail as possible. Wearing comfort should not be neglected, as many producers and listeners wear headphones for a very long time. Good headphones are essential, especially for small project studios. If you work in an acoustically poor environment, you can use headphones as a reference. This is especially beneficial for low frequencies
Audio program (DAW) and plug-ins
If you are buying starter kits or combo packs, you should check if there is already licensed free audio software.
Now that you have everything you need, you can proceed directly to setting up your home studio and creating your works. 

Have fun!