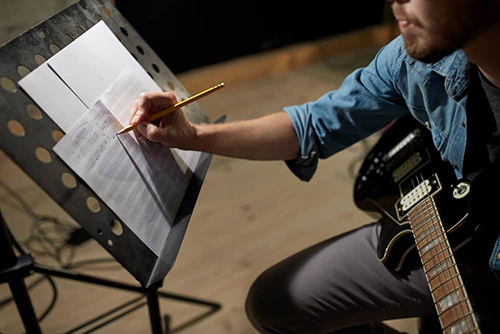 Having your own piece of music is the dream of many musicians. But how do you learn to make music? Actually, the path from improvisation to composition is not so far away. The very first thing is not to be afraid and not to set yourself the goal of composing an entire symphony at once. Your composition should not be long, but it should be catchy and have a good climax and ending.
Composition develops best from improvisation. By improvising, you collect a lot of ideas. And there is always at least one that is worth writing down or working out in more detail. But you should not squeeze out a masterpiece. Work as relaxed as possible. Ultimately, this is quite productive for creative ideas. 
If you already have a great idea, feel free to record it. This way you won't forget your work. In addition, you can safely take a break and continue working later. Recording on a smartphone is enough to capture ideas. 
When you have several bars together, it's certainly not enough for a full-fledged composition. So you can continue to think creatively and create.
When you have already developed one or two ideas, you should think about the concept of your composition. In addition, you need to think about the climax and end. Sometimes these two moments are more difficult than a good start.
Learn how to compose and develop a concept. Plan to, for example, add something new to the climax, and then use the opening theme to close the ending. Whatever your concept is, keep it in mind as you continue to compose. Otherwise, you will get bogged down and not finish the piece.
The climax should correspond to the beginning of the work, but still differ from the rest of the composition. So come up with something new to surprise the listener. For example, you can choose higher tones for the climax, include oblique tones, or use triplets for variety. There are many options, just let your imagination run wild. 
The conclusion of the composition, as already mentioned, is very important. It is often possible to simply play the last theme of a composition to complete the piece. You can change the theme a bit on the last iteration of the song. Or add a phrase later.
Another important point is the breaks when composing. Write down your ideas and then put them aside. Give yourself a rest, drink coffee, and take a walk. It may even be worth taking a break longer, for a day or two. But when you get back to work, hear your ideas again, you can better decide what to do with your composition. It's also possible that you've actually finished your essay, but aren't sure about it yourself yet. Time, patience and self-control also help here. If you play your song again in a few days and still like it, that's a very good sign.
But now your work is already composed. Most likely, you recorded it using a special program. In it, you can not only listen to a fresh composition but also make changes if it seems necessary to you.
As you can see, there are not many steps required for effective creativity. Do them one by one, it is not so difficult, and the result will certainly appear. If you endure it to the end, then you have your own, hard-won composition. It may not be as brilliant as the works of famous authors, but you created it yourself. And this is just the beginning. From time to time, your compositions will become more interesting and professional. The main thing is not to stop and create. And you will succeed!