Nowadays, it is not enough for a musician to have social media presence, it is also important to create a website. It can serve as a place where you gather all the information about yourself and your music and make it accessible for big labels, PR specialists, agents, and your fans, of course. Besides, when you keep all the information in one place it increases your chances of being hired. Having your site also makes you stand out among amateurs, who don't have websites and implies that you are committed to what you do.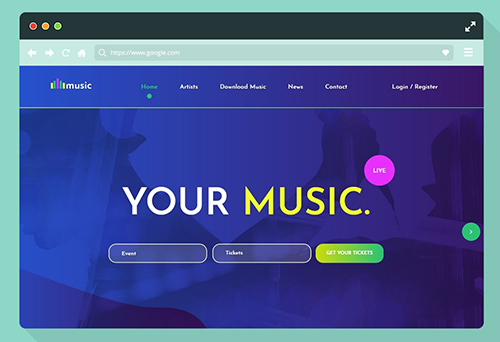 What should be on a musician website
Here are some suggestions about the content you should have on your site. 
- First of all, every professional has a page titled 'about me' where they talk about their story, why, and how they got into music. 
- Then, you should have a page of contacts, where you will post your phone, email, links to social media pages e.t.c. A little tip here, post only those contacts that you actually use and check often. If you check email twice a week, you will likely miss the messages left by your potential clients. And the speed of your response matters when you are trying to land a contract with a label. 
- A must-have for an artist is a music page, where your fans and label representatives can listen to your tracks. 
- Next, you should include a gallery page with high-quality photos for the mass media. 
- To keep your fans up to date with all your activities, you can add a page with future events where your followers can buy tickets to your show. 
- And last but not least, if you sell merch, make a shop page, where your fans can buy t-shirts, mugs, and other stuff with your designs. 
Download a free pdf containing all useful information on music promotion that you can always keep with you! 
How to create a musician website
Now let's get specific. First of all, you should choose a platform where you will build your site.
If you are just starting out and wondering how to create a music website for free, you may try out such free platforms as WordPress, Tumblr, or Blogger.
The only downside to the free resources is the inability to customize them unless you know a thing or two about coding. You can always ask for help or hire a specialist who will do it for you, but maybe it will be more rational to spend some money on services that do allow you to customize your site (we will talk about them later). 
Another disadvantage of the free website-builders is that the name of the platform will be included in your domain name. It is not very helpful when it comes to optimizing your site for the search engines and can look quite cheap and unprofessional. So if you make your site using a free builder, it is recommended to invest in your domain name. 
If you are ready to spend some money and wish to customize your site, we suggest using paid servers, such as Squarespace, Bandzoogle, Bandcamp, or Wix. They do not require you to know how to code and are very user-friendly. With them, making a website is as easy as assembling lego. And these sites come with their domain names, the price of which is included in the monthly fee. This is a huge advantage. 
If you plan on selling merch or CDs check out BigCartel or Printful. 
BigCartel is the server that helps you sell your products online. It has a free option, where you can sell up to five products. If you want to upload more products to your site, you need to pay a monthly fee. 
Printful is a print-on-demand service that allows you to focus on your music while they handle the rest of the job. You can integrate it into your Squarespace or Wix website. However, Printful is an excellent service for those selling only T-shirts, mugs e.t.c. If your merch includes CDs you may consider using another service. But Printful is worth it if you don't want to participate in the logistics of your sales. 

Now that we've got the difficult part out of the way and figured out how to create a band website, it is time to edit your bio, add contacts, and other info to your website. To make your bio impactful, it should reflect your personality. Consider adding your catchphrases, focus on what is important to you. The only restriction here is to keep your story relatively short. Your bio should be condensed and consist of key events in your life that led you to where you are now. It is difficult to write about your life. So if you feel stuck, you should ask your friends or family members to help you with that. It is always helpful to have an outside perspective. When it comes to contacts, leave the embed links to your social media accounts. Some website building sites allow you to add forms, where people can input their email and leave a message to you. You have seen them, they help avoid spam. 
After you have completed the first two steps, let's move on to the fun part - uploading your music to the site. Nowadays, all the streaming platforms allow you to add links to your music on your site. Regardless of the streaming service you use, the majority of them have the 'share' option. Once you click share, choose the embed option, and then you can copy the code and paste it on your site. This process is pretty much the same regardless of the website builder you use. 
---
RECOMMENDED ARTICLES:
---
Post the upcoming events on your site. Some websites can help you with creating upcoming events and notifying your fanbase about your gigs. The most popular servers are Bandsintown and Songkick Tourbox. And once you add your event to the server, you won't need to do extra work and update the info, it will update automatically. 
When you finish building your site, it is time to add the link to your social media profiles, and you are good to go! 

Now you should have a better understanding of how to make a musician website, and I hope that you've found something interesting for yourself. 
Any specific topic that you'd want to learn about?
Any other questions? 
Feel free to ask - I'd love to help!